This article is currently in the process of being translated into Romanian (~98% done).
Panouri (Panels):
The Grid - Units
Pana acum am folosit in general latimea/inaltimea cu stelute, care specifica ca un rand sau o coloana ar trebui sa ocupe un anumit procent din spatiul combinat. In orice caz, exista inca doua moduri de specificare a latimii sau a inaltimii unei coloane sau a unui rand: unitati absolute (absolute units) si auto latime/inaltime. Haideti sa incercam sa cream o grila unde combinam urmatoarele:
<Window x:Class="WpfTutorialSamples.Panels.GridUnits"
        xmlns="http://schemas.microsoft.com/winfx/2006/xaml/presentation"
        xmlns:x="http://schemas.microsoft.com/winfx/2006/xaml"
        Title="GridUnits" Height="200" Width="400">
	<Grid>
		<Grid.ColumnDefinitions>
			<ColumnDefinition Width="1*" />
			<ColumnDefinition Width="Auto" />
			<ColumnDefinition Width="100" />
		</Grid.ColumnDefinitions>
		<Button>Button 1</Button>
		<Button Grid.Column="1">Button 2 with long text</Button>
		<Button Grid.Column="2">Button 3</Button>
	</Grid>
</Window>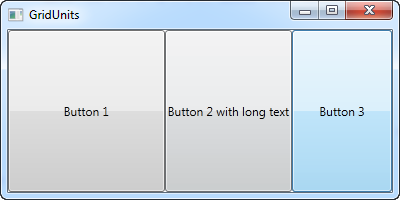 In acest exemplu, primul buton are o latime steluta, al doilea are latimea setata pe Auto si ultima are o latime statica de 100 pixeli.
Rezultatul poate fi vazut in captura de ecran, unde al doilea buton ocupa doar spatiul care ii este necesar pentru a reda textul lui mai lung, al treilea ocupa exact 100 pixeli promisi si primul buton, cu latimea variabilei, ocupa restul.
Intr-o grila unde una sau mai multe coloane(sau randuri) au o latime variabila, ajung sa imparta latimea/inaltimea nefolosita inca de coloane/randuri care folosesc o latime/inaltime Auto sau absoluta. Aceasta devine si mai evidenta cand redimensionam fereastra: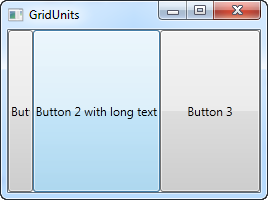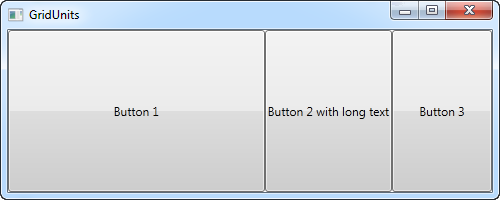 In prima captur de ecran veti vedea ca grila rezerva spatiul pentru ultimele doua butoane, chiar daca aceasta inseamna ca primul nu ia tot spatiul de care are nevoie pentru a reda corect textul. In cea de a doua captura , veti vedea ca ultimele doua butoane pastreaza exact spatiul necesar, lasand surplusul de spatiu pentru primul buton.
Aceasta poate fi o tehnica foarte folositoare atunci cand proiectezi un numar mare de dialoguri. De exemplu, consideram o forma simpla de contact unde utilizatorul introduce numele, a adresa de email si un comentariu. Primele doua campuri au de obicei a inaltime fixa, in timp ce ultima poate ocupa cat mai mult spatiu posibil, lasand loc pentru a tasta un comentariu mai lung. Intr-unul din urmatoarele capitole, vom incerca sa construim o forma de contact, folosind grila si randurile si coloanele de diferite inaltimi si latimi.
This article has been fully translated into the following languages:
Click here
to help us translate this article into your language!
---