This article is currently in the process of being translated into German (~42% done).
Erstellen eines Spiels: SnakeWPF:
Chapter introduction:
In this article series, we're building a complete Snake game from scratch. It makes sense to start with the Introduction and then work your way through the articles one by one, to get the full understanding.
If you want to get the complete source code for the game at once, to get started modifying and learning from it right now, consider downloading all our samples!
Full game & final words
In den letzten Artikel haben wir wir ein ganzes Snake-Game in XAML und C# geschrieben. Wir haben grundlegende Spiel-Engine Funktionen eingebaut wie das Zeichnen des Hintergrunds, Zeichnen des Spiel-Charakters (in diesem Fall eine grüne Schlange), aber auch kompliziertere Sachen wie Kollisionserkennung.
Hinzu kommt, wie wir mehrere Ebenen von der UI für das Spiel in einfachem XAML gemacht haben und wie wir das Aussehen und Verhalten des guten, altem Fenster geändert haben damit es aussieht, wie wir es möchten. Wenn wir sogar die fertige Version ausführen, würde man nur denken, es wäre ein (aber auch recht simples) Spiel, da wir alle Teile ausgeblendet haben, die es wie eine Windows-Anwendung aussehen lassen.
Während wir uns in den ersten Artikeln darauf konzentriert haben, ein einfaches Snake-Spiel zu erstellen, haben wir die letzten Artikel dazu genutzt, alles aufzupolieren und einige nützliche Dinge wie eine Highscore-Liste hinzuzufügen. Sogar Sounds!
The full game
With all that in place, we have now created a pretty complete game while walking you through all the steps. It is now up to you to combine all the pieces if you want to built this game your self, and of course make some cool and innovative modifications along the way.
However, if you want to get an easier overview of how we did everything and how the game matured through all the steps shown in the article, we suggest that you download all the code samples from this tutorial.
<TextBlock>
	To see the entire game source code, 
	download all the samples from this
	tutorial using the link above!
</TextBlock>
Each article is represented by its own code sample, so you can see how we did everything and learn from it. On top of that, the full, final game is also included as a sample, for you to modify in any way you want, or simply play for fun.
Summary
We hope you enjoyed this complete set of articles on how to create a game with WPF. It really shows what a great and highly customizable framework WPF is - everything is possible!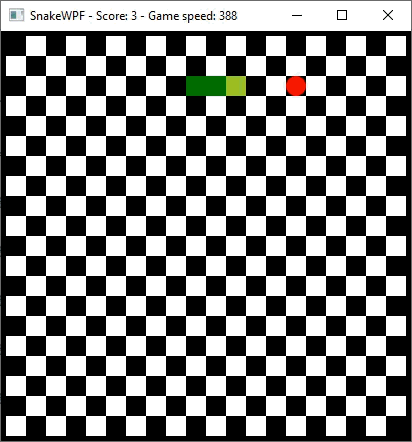 ---