This article is currently in the process of being translated into Spanish (~95% done).
Creando un juego: SnakeWPF:
Chapter introduction:
In this article series, we're building a complete Snake game from scratch. It makes sense to start with the Introduction and then work your way through the articles one by one, to get the full understanding.
If you want to get the complete source code for the game at once, to get started modifying and learning from it right now, consider downloading all our samples!
Full game & final words
En los últimos artículos, hemos construido completamente un juego clásico "Serpiente" usando unicamente XAML y C#. Hemos hecho las partes básicas del mecanismo del juego como dibujar el fondo, dibujar el personaje principal (la serpiente verde en este caso), asi como también cosas más complicadas como la detección de colisiones.
Por otra parte, podemos ver como podemos construir varios estratos en la interface del usuario para que un juego use simplemente XAML y aun como se puede modificar la apariencia y el comportamiento del tradicional Windows para hacerlo parecer exactamente como queremos. De hecho, cuando se corre la versión final del juego, no se puede pensar que sea otra cosa que un juego bastante simple, pero real. Pudimos esconder todas las partes que lo harían parecer como una aplicación de Windows.
Aun cuando nos enfocamos en crear el juego básico de "Serpiente" en los primeros artículos, en estos artículos finales pudimos mejorar todas las partes del juego y agregar algunas cosas extra como la lista de mejores puntajes. ¡También agregamos sonidos!
El juego completo
Con todo esto, hemos creado un juego bastante completo aprendiendo, al mismo tiempo, todos los pasos. Ahora depende completamente de ti si quieres contruir este juego por tu misma cuenta, y por supuesto, si quieres agregar buenas inovaciones por el camino.
Sin embargo, si deseas ver un resúmen general más sencillo de todo lo que hicimos y como maduró el juego a través de todos los pasos que mostramos en el artículo, recomendamos que descarges todo el código ejemplo de este tutorial.
<TextBlock>
	To see the entire game source code, 
	download all the samples from this
	tutorial using the link above!
</TextBlock>
Cada artículo tiene su propio código de programacion de ejemplo, para que así puedas ver como hicimos todo y aprendas esto. Por sobre todo, el juego final y completo esta también incluído como un ejemplo, para que tú puedas modificarlo como te parezca o simplementa para jugar por tu cuenta.
Resumen
Esperamos que hayas disfrutado de esta serie completa de artículos de como crear un juego con WPF. ¡Realmente demuestra que WPF es una gran plataforma de programación muy versatil y que todo es posible!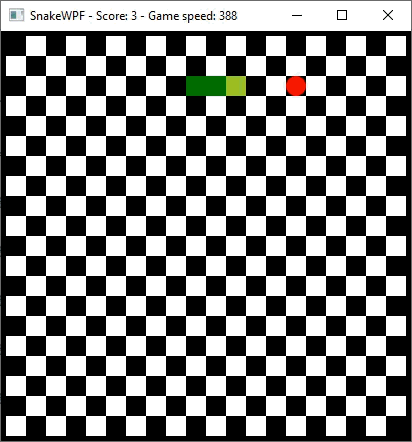 ---
This article has been fully translated into the following languages:
Click here
to help us translate this article into your language!